In celebration of International Women's Day 2019 theme: Highlighting women forging the way for gender parity in their respective fields
As the drive for gender balance in workplaces grows, we have in this day and age witnessed more women rise and forge successful careers in industries that were traditionally male-dominated.
Some of these women include:
Refilwe Ledwaba – First South African black female helicopter pilot.
Besides being the country's first black female helicopter pilot, Refilwe is also the founder of the Girl Fly Programme in Africa Foundation (GFPA) a non-profit organisation empowering young women to take up science, technology, engineering and mathematics (STEM) subjects.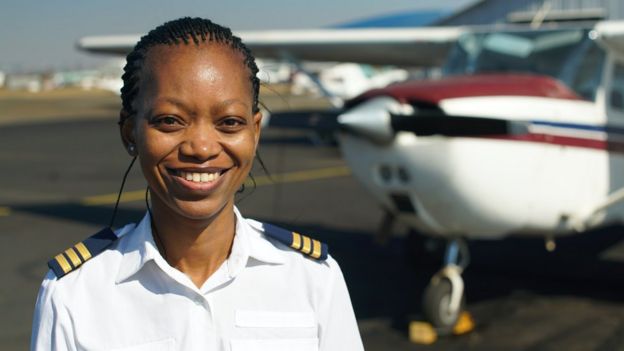 Refilwe graduated with a BSc in Microbiology and Biochemistry from the University of Cape Town. From there she went on to complete a Post-Graduate Diploma in business administration (PDBA). This highly accomplished #BossLady also holds an MBA from the Gordon Institute of Business Science. 
Her aviation career started at Comair and at SAA as part of the cabin crew. There, she had an opportunity to fly to both domestic and international destinations.
She trained and worked as a Helicopter Pilot for the South African Police Services (SAPS). This is where she eventually became the first black woman to fly for them. After 10 years, She left the SAPS and joined SA Express as a fixed-wing pilot flying to domestic and regional destinations.
Aviation has not been a viable career choice for women in the Southern African Developement Community (SADC) region for many years. So, we formed the Southern African Women in Aviation and Aerospace Industry (SAWIA) in 2009, especially to help women overcome the kinds of challenges that both I and my female co-pilots, faced in the industry. We wanted to create a platform that informs young women about aviation when they are still young, and while doing so, empower them with access to other women in this field. That's when the Girl Fly Program was born.

Making girls in aviation soar- Bossladies.co.za 2017
2. Irene Koki Mutungi– The first female on the African continent to get certified as a Captain of the Boeing 787 "Dreamliner" aircraft. In 2004 Koki became the first African woman to qualify to captain a commercial aircraft, when she qualified to command the Boeing 737.She has since qualified to command the Boeing 767.
Koki then took the conversion course which allowed her to transition to commanding a Boeing 787 Dreamliner. In 2014 Kenya Airways promoted her to Captain of the B787, making her the first African female Boeing 787 Captain in the world. Her employer made that announcement on 15 April 2014.
3. Stephanie Travers – 24 year old Fluid engineer.
Stephanie has sent a whole wave of joy and energy not just in Zimbabwe but around the continent. The 24 year old Chemical Engineer graduate has definitely broken a glass ceiling, and will inspire young girls and women to pursue their dreams. She scaled through a five stage selection process which culminated in an interview with the CEO of PETRONAS, D'Ariggo.
Stephanie Travers was part of the more than 7,000 applicants who applied to be Formula 1 trackside fluid engineer with PETRONAS. The year long process was in preparation for the 2019 Formula 1 season.
 She will work with five-time F1 World Champion Lewis Hamilton, providing Mercedes-AMG PETRONAS Motorsport, with a comprehensive suite of fluid support services during the 2019 season.
4. Catherine Uju Ifejika – CEO and Chairperson of Brittania U Limited, an oil exploration, and production company.
She is the only woman to become chair and CEO of an Upstream E&P Company in Nigeria. A graduate of  Ahmadu Bello University, Zaria, Catherine obtained a Diploma in Law and an LLB (Hons.) in 1985 and promptly called to the Nigerian Bar in 1986. She is a member of the Nigerian Bar Association, a fellow of the Institute of Arbitration and Conciliation, as well as a member of the Institute of Chartered Secretaries and Administrators.
 Her business bought a stake in a major oil and gas field, Ajapa. The reserves, according to Britannia, are worth $4.3bn.
"You men, you don't even know how to boil water or where the children's school uniforms are," "We are able to hold your homes together, and we are beginning to translate that into boardroom jobs, and then owning companies. In six years I have formed seven companies."

(BBC Business news- Nigeria's growing number of female oil bosses, sept 2014)
She says 70% of her staff are men, "and they're not used to having a woman as a chairman or chief executive – a woman, a black woman, a black African woman."
5. Lerato Motsamai- South African Founder and CEO of Petrolink, the South African based manufacturer of high grade industrial and automotive lubricants, oil and grease.
She has 12 years of corporate experience in the Downstream petrochemical sector, and has been listed by IOL's August 2017 Business Report as one of the three women influencing the energy sector in South Africa.
Known for her passionate activism and philanthropy in the education and economic empowerment of African teen girls, in 2014, Lerato founded Girlignite Africa Academy and its flagship Girlignite Africa Summits. The annual three-day summits are a spiritual, leadership and entrepreneurial bootcamp that host up to 150 teen girls from marginalized communities.  Girlignite Africa Academy is a non-profit organization and a youthful brand that uses Servant Leadership, Entrepreneurship and STE(A)M Education for social impact. Through this platform, Lerato hopes to provide African teen girls with the opportunity to sustainably bring change in their communities and shape Africa's future.


6. Gurjeet Phull.- The first chairperson and country manager of Anadarko Petroleum Kenya Company. She runs one the world's largest independent oil and natural gas exploration and production companies whose headquarters are in Texas.



7. Amy Jadesimi – Lagos Deep Offshore Logistics Base (LADOL)

A Nigerian Physician,  entrepreneur and corporate executive CEO of Lagos Deep Offshore Logistics Base (LADOL), Amy Jadesimi is overseeing the growth of West Africa's largest logistics and engineering facility operating in a free trade zone.
Prior to working her way up the ladder at LADOL, which was founded by her father Oladipo Jadesimi in 2000, she also served as an Archbishop Tutu Fellow, working to reduce maternal mortality. Among her many accolades, Jadesimi was named Young Global Leader by the World Economic Forum.
Amy moved from medicine and got financial training at Goldman Sachs and Stanford Graduate School of Business.
When asked about her move from medicine to finance she says:
"As with many things in life, you don't really know where you are going to end up when you embark on something. I think I've always focused on doing things I'm passionate about and I always do them to the best of my abilities. So, when I had a passion for the sciences and that led me into medicine and medical school. However, in my last year in medical school, I got offered a job by GoldmanSachs and I wasn't really thinking about leaving medicine altogether. I was thinking of doing banking for a year or so and coming back to medicine but once I got into banking, I really loved it and really got into it."

Guardian Woman- 2018
She is also a Young Global Leader (WEF), Rising Talent (Women's Forum for Economy and Society), 20 Youngest Power Women in Africa (Forbes), a Top 25 Africans to Watch (Financial Times) and was named as one of 2018's Most Influential People of African Descent (Under 40) Worldwide, in support of the United Nations International Decade for People of African Descent (UN IDPAD). She was also named as one of 50 Influential Women in Business by The Africa Report, Jeune Afrique and the Africa CEO Forum. She is a member of the Advisory Board of Prince's Trust International and contributor to Forbes.  In this interview, she talks about leaving medicine for finance, how stay-at-home moms need to be financially empowered and how women-led companies are more profitable. 
8. Njeri Rionge– Founder of Wananchi Online.

Popularly known as "The serial entrepreneur " Njeri Rionge is the female entrepreneur behind Africa's original mass market internet provider.She founded Wananchi Online in 2000 when the was boom in personal computers and a slow growing reach of the internet.
Although at the time,  there was a perception that internet service was only for the elite,  she was determined to make it more accessible to the masses.  Wananchi Online became something bigger: the Wananchi Group,became the leading provider of broadband internet, cable television and internet-based mobile services in East Africa.
She has also ventured into business consultancy (Ignite Consultancy),  health consultancy (Ignite lifestyle) a digital marketing company (Insite),  as well as start up incubator in Kenya (Business Lounge).  Her driving force is to develop Africa into the "next big economic miracle", and has stated in many interviews about her desire to do her part in helping the continent reach its full potential.
Conclusion
These 8 women are among many other remarkable women who have reached great heights in fields that are traditionally male dominated. A recurring theme for all of them is the fact that their passions drove them to overcome the biases and stereotypes and break the ceiling in these industries. They have not only made great advancements in their sectors but also empower other young women to follow in their footsteps and continue contributing to a more gender-balanced world.